Contact Tempus Media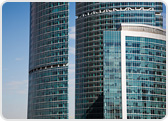 If you have any questions, comments, suggestions, or criticisms, please feel free to contact us any time by e-mail at
info@tempusmedia.com
, or by phone at (888) 513-9130. Feel free to contact us regarding general questions or comments about our company, products or services.
Our Information
Our Commitment
We've done it before...

Tempus Media is an experienced and established web design company specializing in website design and e-commerce development. We have planned, created and launched hundreds of successful websites since our inception, for many different types of businesses around the US.




With our team's combined experience in graphic design, website development, Flash animation, e-commerce, database programming, you can be confident that whatever your project demands, our web developers can deliver on time and on budget!

We can do it again...

Our web designers have the creative talent to appeal to your sense of style, the training and knowledge of current web development standards and practices, and the ability to turn your ideas into reality!




Our clients range from small start-up companies needing a basic web design to large corporations requiring complex web applications. We invite you to review our website design portfolio and read our client testimonials. If you feel that we are the right choice for your design project, please request a no cost, no obligation quote today!
Contact Us
All information you provide will be kept strictly confidential and will not be released or shared with any third party. Please fill out the form below and we will contact you to discuss your project.